BIM modelling of road infrastructure represents a great challenge for both designers and software developers. It requires learning new design approaches and tools on the one hand, and constantly developing quality design software on the other.
CGS Labs software has been supporting BIM for several years now. The approach to designing road infrastructure BIM models using the road design software PLATEIA is very similar to classical design. That's why PLATEIA is so popular with civil engineers that work on BIM projects. CGSLabs are currently helping designers from all over the world create BIM models.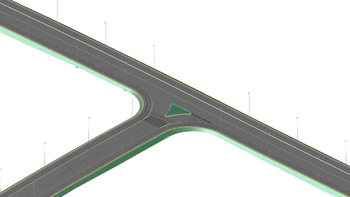 In this short webinar, CGSLabs will show you the procedures and guidelines to efficiently create a BIM model of a road intersection using tools available in the latest version of PLATEIA software for road design.
10:00 am CET
30th August 2022
Register Here
Preparation: Creating two alignments with sample lines, creating profiles and calculating superelevation.
Drawing of the intersection surface: Making the surface of the intersection with the help of PLATEIA's tool.
Drawing of projection lines: Drawing projection lines that represent the edges of the intersection model.
3D model: Creating a 3D model of the roadway.
Attributes: Attaching sets of attributes.
Islands: The process of making 3D models of islands.
Traffic signalling: 3D road markings and traffic signs.
IFC export :and relevance of IFC for using the model in other programs.
Roundabouts: BIM approach for designing roundabouts