With the Help of CINEMA 4D mysterious marine creatures come to life in Discovery Networks' new online promos!
3D artist Jean Marco Ruesta explains how he combined 3D and cutting-edge web techniques for the spots. They're ferocious, vicious, dangerous and they're headed straight for you … online. Discovery Network's web promos for hit shows River Monsters and Shark Week offer up a heart-pounding view of some frighteningly real underwater creatures brought to life using MAXON's
CINEMA 4D.
Known for presenting informative and entertaining programming on the unusual and unseen lives of animals and insects around the world, Discovery Network looked to New York City-based 3D animator Jean Marco Ruesta to create the imaginative River Monsters promo in which creatures appear to swim out of the frame. "I like doing stuff that makes me think outside of the box," says Ruesta, who teaches CINEMA 4D classes at the New York's School of the Arts and works at Alien Kung Fu in Manhattan.
Ruesta had just five weeks to complete the River Monsters promo. His work began when Discovery Network gave him some reference boards, a basic YouTube page created by their in-house design team and footage of the show's host Jeremy Wade standing in front of a green screen on a sound stage in London. With all of that for inspiration he came up with an online spot that, at first glance, looks like a typical YouTube page with one main player window and several videos from the show on which to click.
Suddenly the action ramps up when Wade steps out of a banner ad, grabs a fish net and throws it across the screen. Catching the play button for the main video with the net, Wade fast forwards to live footage of an episode of the show in which he struggles to hold on to a giant salamander as it writhes and twists in his hands.
In the promo, Wade's toss of the net looks effortless. In fact, it was a bit of a challenge for Ruesta to pull off. Though he had green screen footage of Wade actually throwing the net and pretending to throw it, none of the shots worked well in Ruesta's overall design plan. So he reached out to the online CINEMA 4D community for help with creating a net for the host to throw. It took a couple of tests, but soon the ideas he got from everyone came together and he was able to create a net by creating a plane and an Atom Array Object.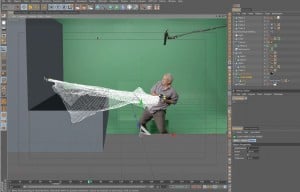 After applying Cloth Dynamics to the plane, Ruesta constrained points of the net to a few control objects and began animating. "Without my gurus Jack Myers and Dr. Sassi from Cineversity, I would have been lost," he recalls.
Ruesta used a variety of approaches to create the show's creatures. To animate the salamander, for example, he used the Spline Wrap deformer to define the path along which this creature, and others, moved. He also added a few nulls to the surface of the salamander, and with the help of the CINEMA 4D to After Effects connection tools (external tag), he was able to get the null's position data into After Effects.
Ruesta's work on River Monsters surpassed Discovery Network's expectations and he was asked to create an online promo for their Shark Week show. More ambitious than the first project, this promo again used green screen footage, this time of actor Andy Samberg standing in a room talking to viewers. He's interrupted when two big bumps shake the room just before a shark bursts through the wall, shakes his head back and forth and swims off the screen and out of sight leaving Samberg drenched.
One of the biggest challenges Ruesta faced was figuring out how the shark would break through the website interface as though it were breaking through a wall. For this he relied on CINEMA 4D's Dynamics tools for a natural breaking and crumbling effect. Using the YouTube interface as a template, he modeled and textured a wall of wooden planks and then broke them up in the area through which the shark would. Ruesta added tags to all the pieces so their position data would be available in After Effects.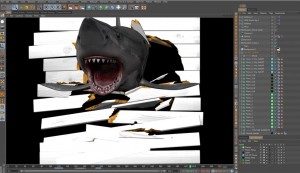 Watch the Rivermonsters spot:
http://www.youtube.com/rivermonsters
Watch Sharkweek spot:
http://www.youtube.com/discoverysharkweek