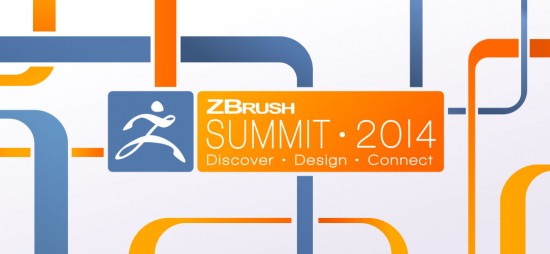 Pixologic Inc. announces the ZBrush Summit Live! – 3 days of LIVE presentations streaming around the world.
 The ZBrush Summit  happens live from Los Angeles and will be streaming around the world on August 8th, 9th and 10th, 2014. It will present artists from leading studios in the 3D graphic arts community and will feature live presentations showcasing ZBrush and its use across a wide range of industries from VFX to video games, toys and illustration.
The ZBrush Summit will feature a sneak preview of the newest version of ZBrush and audiences will see presentations featuring Pixologic Inc. 3D Product Development Manager, Paul Gaboury and Creative Development Manager Joseph Drust.
The event will allow on location attendees to see artists in action while opening up the potential for interactive Q&A sessions.  In a first, the show will stream live across the internet providing a global audience HD access to the ZBrush Summit and instant connectivity to industry leaders and artists.
The ZBrush Summit will host the likes of Walt Disney Animation Studios, Legacy Effects, Ubisoft, Red Storm, Section, Elastic, Hasbro and 3D Systems/Gentle Giant. With exclusive never before seen content, the ZBrush Summit presents a unique opportunity to see a collection of talented artists in action, along with panel discussions and interviews.
The ZBrush Summit is the natural extension of our efforts to showcase the magic of seeing ZBrush in action. By incorporating LIVE streaming, we have an opportunity to do this while reaching a global audience. It's an exciting endeavor and allows for more people to engage with ZBrush in a new way.

Pixologic Inc. Brand Manager Louie Tucci
The ZBrush Summit will be held in Los Angeles on the grounds of the Gnomon School of Visual Effects inside the Television Center Building Complex.