10:00 CET
22nd September 2022
Register Now >
CGS Labs invites you to the live webinar Road Reconstructions Design with BIM data, which is the next in a series of specialised webinars for road designers.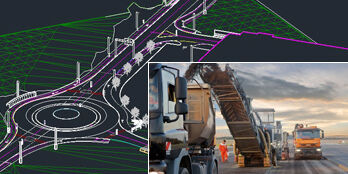 Road reconstructions are one of the most frequent projects in road design. For this purpose, CGS LABS has developed several specialised tools that speed up and automate the process of road reconstruction design and assist you in preparing a BIM-compliant project.
In this webinar, CGS Labs will show you the workflow to efficiently reconstruct a road using survey points or a point cloud. CGS Labs will demonstrate the tools within "PLATEIA for road design" which you can use to create your project.
Topics covered:
Preparation of data – Importing and editing of survey points, point cloud.
Alignment definition – Creation of (best fit) alignment based on existing data.
Lane definition – Definition of existing road edges.
Reconstruction tool – Definition of Profile, reconstruction points and editing tools.
Superelevations – Using draped cross axes or 3D polylines to define existing Superelevations.
Cross sections -> 3D model -> BIM model – Creation of 3D model based on cross sections and making of BIM model with attached property sets.
A recording of this webinar will be made available to all registrants.