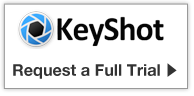 In the last few days, Keyshot 6.1 has been released and many plugins have been updated. Please read on for more information..
HDRI Editor
On the news of Luxion's patent award for HDR Image editing technology, users of KeyShot Pro gain improvements to the real-time viewing and creation of HDRI environment lighting. The HDRI Editor works by allowing a user to add light sources by adding 'pins' to the environment. With KeyShot 6.1, user may now create half-pins – half rectangular or half circular pins. Both new and existing pins may be converted to half pins, by selecting the Half option in the pin properties of the HDRI editor. Along with this capability, the HDRI Editor user interface has been updated for a smoother workflow and users will see significant speed improvements in both navigation and generation of HDR images.
Other Improvements
Additional updates include the addition of IES light, point light and area light thumbnails in the KeyShot Library to better display brightness and color of lighting presets. The Toon Material Type now allows greater control over outline and part contours for improved production of visuals for technical documentation. The Anisotropic Material Type now allows adjustment of the Roughness parameter in both X and Y position. For KeyShot Animation, motion blur is now available for cameras as well, in both the real-time and offline rendering modes.
Plugins
Many modelling application plugins have been updated. KeyShot now supports Sketchup 2016. KeyShot plugins may be downloaded at keyshot.com/plugins.