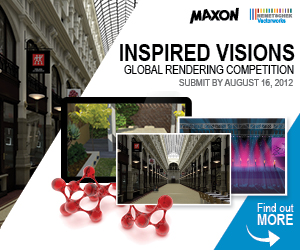 This annual competition, which is sponsored by Nemetschek Vectorworks, Inc. and MAXON Computer GmbH, recognizes today's top architects and designers from around the world, and their abilities to visually render Vectorworks® models with Renderworks® or CINEMA 4D. Professional and student designers can submit entries to the 2012 Inspired Visions Global Rendering Competition. Submissions will be accepted from April 17 to August 16, 2012, in the following categories:
Rendering with Renderworks 2012
Rendering with CINEMA 4D
Monochromatic model (rendered in Renderworks or CINEMA 4D)
The panel of judges includes Daniel Jansenson, principal at Daniel Jansenson Architect and author of Remarkable Renderworks, from Santa Monica, Ca.; Tyler Littman, principal designer and owner of Sholight, LLC, from New York; Nicholas Dunand, freelance designer and sculptor, from Melbourne, Australia; Erik Recke, freelance architectural visualizer at Datenland, from Hamburg, Germany; Alejandro Nogueira, CEO at DECC Arte 3D from Tecamachalco, Edo. de Mexico, Mexico; and René Racz from Lichtmaschine Multimedia GmbH, Basel, Switzerland.
Each category winner chosen by these judges will receive $2,500 USD and will be featured in an official media release and on Planet Vectorworks. Winners will also be promoted on the Nemetschek Vectorworks and MAXON social media channels, such as Facebook, Twitter and YouTube.
In addition, the public will select their "Fan Favorite" from all entries, which will be posted on the competition's website. Voting will take place directly on the site.
Designers may enter multiple categories. However, all entries must be built on a Vectorworks model. Interested competitors who lack the current versions of the software can request a free, 30-day version of Vectorworks with Renderworks software at www.vectorworks.net/trial/form or student.myvectorworks.net (for students), or they can download a 42-day free version of CINEMA 4D at www.maxon.net/downloads/demo-version.html.
To enter, vote or learn more about the competition, visit inspiredvisions.vectorworks.net.