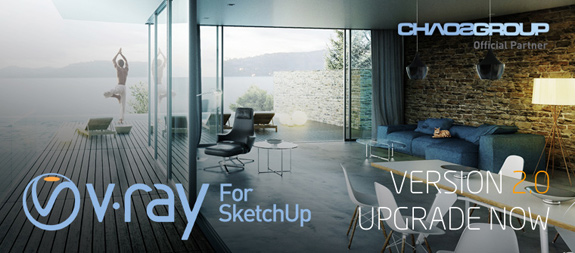 As most of you already know V-Ray for SketchUp 2.0 has recently been released (see our blog post "V-Ray for SketchUp 2.0 Release" for a list of all the new features). The new version is now licensed with a USB dongle to ensure optimum security and reliability meaning you can take your license with you wherever you go. New licenses of V-Ray for SketchUp bought between the 15th May 2013 and 15th September are eligible for a free upgrade. If you purchased before the 15th May the upgrade price is £195 +VAT plus your V-Ray Dongle (£23.50+VAT). For a more detailed explanation on how to upgrade please see the steps below:
I purchased between the 15th May – 16th September
Visit our V-Ray Dongle page.
Purchase a V-Ray Dongle
Reply to your order confirmation with previous order details.
(If you bought your license from us simply send us your order number or, if your license was bought elsewhere please forward your name and license details)
Sign into Chaos (once you have received your login details) and download version 2.0
Wait for your dongle to arrive, once you have this you are ready to go!
I purchased before the 15th May
Visit our V-Ray for SketchUp page
Choose a dongle option
Sign into Chaos (once you have received your login details) and download version 2.0
Wait for your dongle to arrive