This article is the start of a short series on the benefits of Vectorworks within urban regeneration.
Above and beyond the obvious impact of Covid, there are many more changes taking place at secondary and tertiary levels of almost every aspect of daily life. Economically, so much focus has been given to the tech giants benefiting from home working that it's sometimes overlooked how much has changed with the way people wish to spend their money and free time.
Department stores have disappeared, town centre restaurants and fast-food outlets have been given a new lease of life by delivery services. Out of town retail has had mixed fortunes, with open retail settings with drive-throughs and cafés doing well whilst covered destination sites have often suffered.
Relatively early into the pandemic in the UK, a recent buyer of a nice new apartment in central London described how all the perceived benefits of access to gyms, bars, museums, night life and even airports – disappeared overnight; she felt like she was left with nothing more than an overpriced glass box. The rental market is currently rewarding properties with gardens, views and immediate access to recreation whilst flats and apartments are punished – especially so the higher they are or the further away they are from open space.
If you're a believer in market forces, this is the point at which problems may start to solve themselves. What does one do with an empty department store? It's centrally located, not particularly high-rise.. maybe that becomes thirty apartments. Or maybe the car park does.
For those workers that have developed an allergic reaction to commuting.. what do they do with that extra hour and a half along with the £30 they save each day on travel and Pret coffee? If they're still in a flat, maybe they spend that in the restaurant around the corner. If they have kids, maybe that goes towards the next house with an extra bedroom – so Mum or Dad doesn't have to sit all day in the kitchen.
In town centres themselves, rapid change brought about by social-distancing has created cycle lanes and pedestrian zones that local councillors have been fighting over for decades. These are almost certain to remain – but at some point those temporary bollards will be replaced, those awkward spaces planned, landscaped and maybe even planted. All this has the potential to form part of an urban renewal – not in the grand, overarching plans like those applied to Coventry or the post-war new towns but in a much more sedate and evolutionary way; one that responds to, rather than attempts to bend, human behaviour.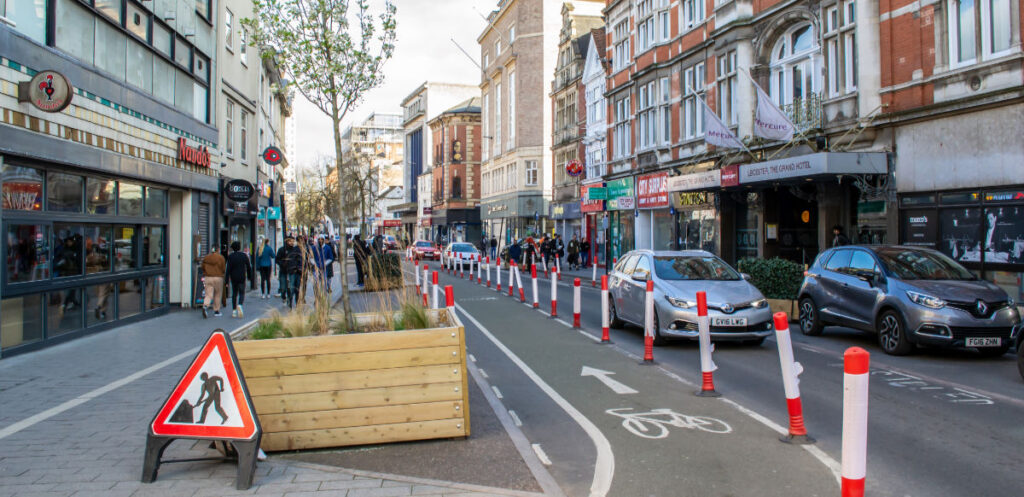 There are many other small but notable changes in play: in Essex, scooter schemes have magically appeared almost overnight. Their presence is a point of much discussion but if proved successful, there are some awkward grey areas that need to be overcome. Electric scooters are legal on neither road nor pavement and use on roads and cycle lanes only permitted in schemes such as this. It's possible that in order to facilitate new modes of transport, cycle lanes will need to be much further expanded – or perhaps a new form of mixed-use transport lane will need to be supported in towns and cities.
All this subtle but tangible change means that town and city centres will attract more attention over coming years in terms of new uses for buildings and spaces and how to evolve some of these rapid, short term changes into something more long-term.
As we look at these changes or opportunities, we see how urban design could flourish, how new builds could be partly replaced by repurposed and renovated town centre buildings and how the value of existing spaces has markedly increased mid- and post-pandemic. We also look at how the tools and functionality available in Vectorworks can assist us in these challenges or opportunities.
How Vectorworks Can Help
From early proposals, through feasibility studies all the way to final visualisation, Vectorworks provides tools that make complex tasks much simpler for architects, landscape designers, planners and interior designers.
Vectorworks includes a range of relevant tools including:
Space planning
Road creation
Importation of cloud point data for existing building reference
Railing and fence tools
Quantity surveying and take off tools
Landscape area tools
Shared cloud folder for easy collaboration with large teams
In forthcoming articles, we will expand on how Vectorworks can help with urban design and building renewal tasks including projects surrounding pedestrianisation, space planning in existing building renovation, and the complete visualisation of architectural projects.
Get started with Vectorworks or a Vectorworks Subscription today, available now at CAD Software Direct.