KeyVR from KeyShot is here to make complex visualisation easy and fast.
Virtual reality is an immersive experience inside a computer generated environment. It might have started as a niche product in the gaming industry, but the benefits of VR have now been transferred and proven within business.
Using VR, your business can create true to life simulations in a cost effective and risk free setting which is perfectly suited to architects, interior designers, product designers and more. Imagine being able to build your product in 3D and place it in your clients hands (or put your client right inside your 3D building!) – with VR you can.
KeyVR is virtual reality software that allows you to take a KeyShot scene and generate an interactive experience all with one click. Here, we're going to take a look at setting up KeyVR, as well as some of the key benefits, potential limitations, and our experience with it. We're using the Oculus Rift, but KeyVR also works with the HTC Vive and Windows Mixed Reality.
Our Set Up
To run KeyVR you will need a supported virtual reality kit, as well as a computer to run it that meets specified requirements. For the Oculus Rift, you're going to need at least:
An NVIDIA GTX 1050Ti  / GTX 960 or AMD Radeon RX 470 / R9 290 or greater
An Intel i3-6100 or AMD Ryzen 3 1200, FX4350 or greater
8GB+ RAM
HDMI 1.3 video output
1x USB 3.0 port and 2x USB 2.0 ports
Windows 10 OS
Here's what we used:
Oculus Rift including headset and two hand controllers
Performance Laptop meeting minimum VR requirements

NVIDIA GeForce GTX 1060 2GB
Intel Core i7 @ 2.20GHz
16GB RAM
1x HDMI
3x USB 3.0
Windows 10
What often goes unconsidered as well is that you will need some space to move around. The Oculus Rift, for example, requires 1 x 1m of 'play space' to work, but 2 x 1.5m is optimal.
If you don't have the hardware to meet these requirements, you won't be able to run any virtual reality software and will need to tackle that first.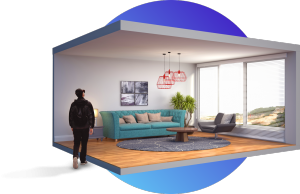 Benefits
KeyVR works both directly from KeyShot, and also as a standalone solution, that requires limited preparation and no coding or scripting knowledge. Simply install the program to your VR enabled computer, load the keyShot file, and off you go.
This is a viewing tool that allows users to explore designs interactively and in a real world context, which is perfect for refining sizes and scales using real world dimensions. Viewing through VR not only gives great scope for analysing buildings, but is also a natural way to find angles for product design shots.
There are even options to choose while viewing the model including material change, environment change, model sets and animations which can all be used to breathe life into your designs.
KeyVR is intuitive and impressive with a certain 'wow' factor when clients view projects in virtual reality for the first time. Viewers can explore in a real-world context rather than just looking at a screen, while easily reviewing designs and making model, material and environment variations on the fly.
KeyVR is also GPU powered, so it is capable of loading large data sets to power more complex scenes.
Limitations
The fundamental difference between KeyShot and KeyVR is how the data is visualised to end users. In traditional KeyShot, CPU-based ray tracing is used to produce a photo-realistic image (or depending on the materials, a stylised image, such as with toon shading). KeyVR does not use ray-traced rendering, which improves the frame rate (resulting in little to no risk of motion sickness), but can result in a less realistic visual quality. Scenes will look different in KeyVR compared to rendering with KeyShot due to technical limitations or performance considerations. Some features may also not currently be supported.
There is a fairly high up front cost to get started with virtual reality. You may be able to find other uses for a performance machine in your business, such as rendering and 3D modelling, but you may struggle to find additional uses with a dedicated VR headset to make up for the cost. If you're planning on regularly using VR though, this is not a problem.
The image resolution isn't high enough for complete realism yet, though this is not an issue with KeyVR specifically, but the current state of VR headsets. There are some in the works which tout higher resolution to boost the realism, but we're yet to see actual results.
Workflows
A common VR workflow is to model in your 3D application of choice and then import to Unreal or Unity to build a VR experience. Unity and Unreal are great for immersive environments, but will never be the tool for quick decision making. Unity and Unreal are also not built for designers, whereas KeyShot and KeyVR are, meaning you'll be comfortable using them in no time.
KeyVR is the ideal solution to add to your tool box to quickly view your assets in context without any need for scripting. It complements existing workflows by allowing you to make a decision faster than going into Unity or Unreal first.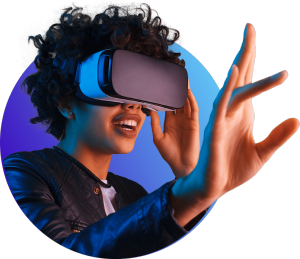 Key Points
• KeyVR is not a KeyShot add-on, so KeyShot does not need to be installed for it to work.
• KeyVR opens KeyShot .bip and .ksp files generated from any KeyShot version (KeyShot 8 recommended).
• To export from KeyShot to KeyVR using 'one-click', KeyShot 8 is required.
• KeyVR is currently only available as a node-locked license.
• KeyVR will work with any KeyShot edition (PRO, HD, FLOATING, ENTERPRISE). It cannot be licensed or installed as a floating product.
• KeyVR is currently only available for Windows.
Our Experience
KeyVR is intuitive and simple, expertly demonstrating the power of virtual reality in a business world. There are some limitations in the hardware, and there is an upfront cost, but the payoff is a leading-edge, exciting and efficient way to show off your designs in their best light.
Are you interested in KeyVR? Whether you're an expert with VR already in your workflow, or a complete novice still in the evaluation stage, talk to us today about trying the software, and ensuring your hardware is sufficient to provide a great experience.